The new lactate analyser, Lactate Scout 4 has been developed by EKF Diagnostics.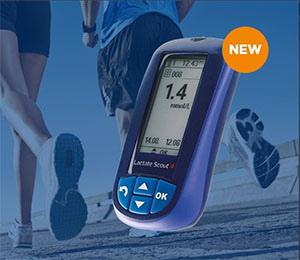 The Lactate Analyzer is now available, Lactate Scout 4!.
The analyzer Lactate Scout 4 is a new lactate analyzer that obtains results in just 10 seconds. Like its predecessor, the Lactate Scout + includes a Bluetooth connection. However, this new model, the Bluetooth connection it includes is Bluetooth Bluegiga 4.1 (Bluetooth Smart - Low Energy) to be able to synchronize the data obtained wirelessly, significantly improving connectivity.
More information
Pack composed by:
Lactate Scout 4 Analyzer with Bluetooth
Instruction manual
2 CR2450 batteries